Stop complaining that school doesn't prepare you for real life.
"The Real World, Real Skills Bill" has finally passed through the senate — adding gambling classes to the core curriculum of five states. The teachers are abuzz, students are excited and parents are desperately trying to figure out how they, themselves, can enroll.
"This is a really exciting time for us," stated John Hutcherson, school superintendent. "The funding to implement our new gambling program is up to almost $36 million! Of course, the funding system is run on a lottery, so we don't know how much we're getting yet, or if we're getting any at all — but we're optimistic. Actually, we've already spent it."
But why gambling?
"To tell the truth, students have been gambling for decades," said Arne Duncan, the U.S. Secretary of Education. "I mean, we ask them to figure out what they want to do for the rest of their lives before they've figured out how to properly parallel park. This is really just bringing risk management to the forefront of their curriculum."
And it isn't just risk management that the teachers will be focusing on. Gambling courses will be geared towards teaching students a variety of useful life skills, such as
Mathematics and statistical analysis.
The inherent unfairness of life.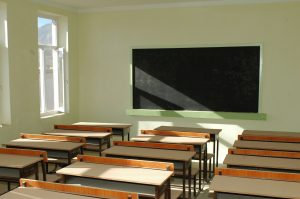 "I was really hesitant at first," admitted Geraldine Collins, a high school mathematics teacher. "I mean, how much can I really teach about gambling? I don't even play church bingo! And then I realized that gambling can be applied to almost anything in life. Online gambling can be used to teach technology, bluffing can be used to teach social skills and heavy losses can be used to teach philosophy and religion."
Of course, not everyone is happy. In the area of education, people rarely are. A few parents and teachers feel as though this gambling curriculum could be a step in the wrong direction.
"My children are excited about school," stated Brent Berger, a concerned local parent. "That doesn't sound right, does it? Excited… about school? Suspicious, if you ask me."
"I don't really know anything about gambling," fretted Janet Vaughan, a young mother. "How am I going to help them with their homework? I already can't get a hold of this common core stuff."
And while most teachers are more than ready to embrace the new curriculum, some are worried about how the system is actually being implemented. Many cited concerns regarding the budget and how resources are being allocated.
"I spun the wheel of teaching supplies and only got some old chalk and a ball of yarn," reported Francisco Touchet, a former French language teacher. "And when I spun the scheduling wheel, my class ended up at 4 AM… on the football field. I'm just not certain that the entire system should be gambling based. Also, I'm a little concerned that gambling replaced History 101."
But these voices of dissent are not typical. The vast majority of teachers, students and educational professionals seem ready and willing to embrace the change. After all, gambling is far more likely to be useful to them than knowing the quadratic formula, the gross GDP of Canada or the meaning behind ancient Egyptian hieroglyphics… combined.