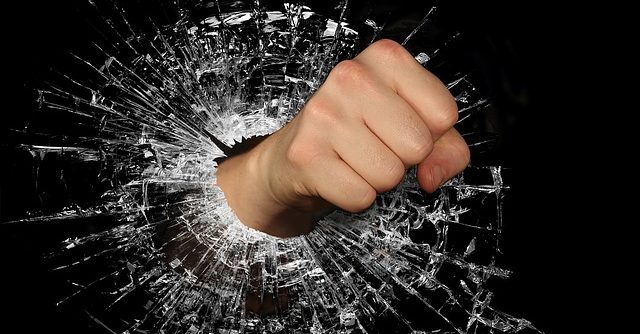 Lord Mayor of London, Bonkers Boris Nonsense, last night rescued a woman from being attacked by an armed group of drunken yobettes, chasing them down the road on his bicycle while shouting "Effin' Oiks – I'll have yer all horse-whipped and thrown into the Tower fer this!"
Ms. Fellattia van der Gamm, a 94-years-old Dutch tourist, was walking along Dick Turpin Street in Scumborough Hamlets on Monday evening when she was surrounded and jostled by the boozy girls, one of whom was armed with two sticks of rhubarb fastened together in a martial arts style 'nunchakas' fashion.
Ms. van der Gamm, a retired Utrecht lap dancer, was walking back to her bed and breakfast accommodation when she was approached by the rowdy group of hoodie-wearing yobettes – all swigging on bottles of high octane Meths Breezer.
She told a reporter from the Scumbags Gazette "I vos finding my way back to der shithole of a B and B place wiv mine hand-held GPS machine so didn't notice der nasty drunken sluts until dey pushed me against der car and started groping me and going through mine pockets."
"So I scream out loud – in English – and dis nice man wiv a windblown thatch of blonde hair just like der messy bouffant style of der sexy Serbian war criminal Radovan Karadzic that now is on trial in the Hague – he is riding his bike past den he stopped and chased der girls down der street, calling dem "Oiks". "He really vos my knight on a shining bicycle. But now I ask you something – what is 'Oiks'?"
Mayor Nonsense returned a few minutes later pushing his bike and carrying the confiscated sticks of rhubarb over his shoulder then took Ms. van der Gamm by the arm and asked in his best gentlemanly manner "Fancy coming back to my place for a spot of rhubarb crumble and custard, darling?"
One informative aside – Bonkers Boris, a once-time member of the Oxford University Bullingdon Club – a student dining society renown for its raucous feasts, head-banging piss-ups and wholesale homosexual dogging sessions –
gained celebrity fame for his gourmet preparations of stewed rhubarb and custard while attending the university.
It is rumoured in Oxford Uni lore that fellow students and their epicurean guests, once having sampled the gastronomical delights of Boris's cordon bleu dessert concoction, were known to have fretted away and actually died from withdrawal symptoms when they were unable to secure a source as wholesome as the original.
* For readers unaccustomed to upper class English slang, 'Oiks' is a 'nice' and 'politically correct' Balliol College, Oxford term for 'cunts.'
http://news.bbc.co.uk/1/hi/england/london/8340865.stm