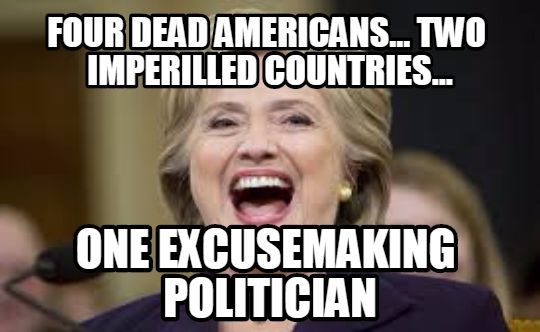 Following in the footsteps of the late-lamented Hugh Heffner, and drawing strength and inspiration from fellow latte liberal Harvey Weinstein, Hillary Rodham Clinton has decided to revive her fortunes with a controversial Playboy interview.
Here is one of the highlights:
Why did I lose the election?

I recommend you read the book, it tells you all about it.

No, I strongly recommend you read the book.

No, stop harassing me young man; you have no idea what I can do to you!

No, stop harassing me with this persistent questioning…

The mic is on?

Oh, well.

Yes, well first of all, I recommend you buy the b… Yes, secondly, secondly, now excuse me young man! Less of your coded sexism, if you don't mind!

Well yes, aside from what I have written in the book, which I wrote entirely myself, without any assistance, which is actually a rather unusual… Yes, yes, please give me a chance to begin speaking, and stop your manquestioning.

Yes, I take full responsibility for the election. I take full responsibility! But it wasn't my fault.

I would surely have won, if only for the Bernie Bros, the Russians, Donald J. Trump, Fox News, the disloyal regular media outlets, Jill Stein, Anjamu Baraka, Gary Johnson, Bill Weld, the Green Party, the Russians, the Libertarian Party, the Russians, Justin Bieber, the biased anti-Hillary news coverage in the EU, the well-established and universally acknowledged North Korean infiltration of my Super PAC…

Radical jihadist terror, the Iranian regime, the Burma junta, Hugo Chavez and Nicolas Maduro, the Catholic Church, the J… the Jehovah's Witnesses, Tom Cruise, the lack of respect for women in today's society, the GOP-erected glass ceiling, the corrupt revolving-door ethos of the patriarchal Washington Establishment…

Men's Rights Activists, pacifists, unpatriotic veterans and veteran-enablers, Mark Zuckerberg, Jack, the biased behaviour of Facebook, Twitter and all other search engines towards me and my campaign, the biased behaviour of Instragram, Tumblr and all other video channels towards me and my campaign, Hugh, Pugh, Barney McGrew, The Russians, Cuthbert, Dibble and Don Lemon, the Russians…

Bill O'Reilly, Howard Dean, Howard Shore, Bernie Sanders, Bernie Madoff, Bernie Sanders, Colonel Sanders, Bernie Sanders, Dennis Kucinich, Dennis the Menace, The Russians, Tulsi Gabbard, The Russians, Tony Blair, Tony the Tiger, Lord Voldemort, Lord Keynes, Jacob Rees-Mogg, Mogg the Cat, Mork and Mindy, Kenan and Kel, Will Smith, William Hague, the William Blackstone, Thomas Paine, Thomas the Tank Engine, Thomas Jefferson, the Jefferson Airplane, the 9/11 attackers…

Oh, and the Russians!

And Vanilla Ice!

There! Satisfied?!?!?!
Rumors have it that Playboy sales have fallen through the roof after this bizarre and erratic interview.
Then again, it's better than having a missile fall through the roof of your Baghdad kindergarten, I suppose…