-Peter, great loyalty demands great sacrifice
As you found out last time, the entire Glossy News team has been arrested on fake charges for prostitution…
Although a certain informer called Wallace Runnymede (who shall remain anonymous, in order to have evade having the crap beaten out of him by his erstwhile peers, as some have framed it)…
But yes, His Most Exalted Shit-Stirriness has traded security for liberty by making a sneaky plea bargain, in order to dump the other guys in it.
… Oh come on, don't be so judgmental!
… Well, someone has to keep this shit running, right?
I mean, it's a purely disinterested and benevolent decision for the good of Our Greater Good™, the National Interest™ and Our Common Humanity™, (as Dick Cheney and John Kerry would say)…
In order to keep the website running. I mean, it's not like I did it MERELY because I wanted to avoid getting passed round the shower by achingly rowdy and conspicuously benevolent chain-gang-running new-boy-protectors, right? Capisc'?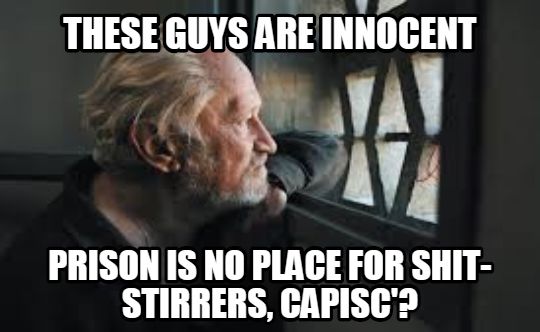 But as I'm in the mood for spilling all, I'm going to tell you who ratted on us with their horrendous allegations which were not ENTIRELY TRUTHFUL and NOT WITHOUT A HINT OF EXAGGERATION; to say the least.
That's right. I may not be gazing anxiously over my shoulder in a rather drippy and sweaty crowded "theatre" of thugs in Reno; but I'm gonna shout "Fire" anyway. I'm telling you the names of the haters who framed us, so any of you who care about it (I presume that means every single one of you, WITHOUT EXCEPTION), will know what to do. Put a brick through their windowpanes, piss on their patio, whatever. Once I tell you, it's out of my hands.
-It's not a vendetta if you don't get caught
Here's a clue: the leader of the East-North-East-Central-wherever-the-F***-Boston-Soccer-Mom's-Liberation-Front was thoroughly unrepentant of the vindictive, vicious and thoroughly unprovoked actions of her and her comrades (male and female alike; no third genders, because this is actually a quite exclusive and bigoted organisation, as you will see).
"OH, GOD, would you just THINK of the children! The last thing in HELL godly white teenagers need is to be reading about PROSTITUTION, of all things, on the internet! I mean, there's practically NOTHING worse they could be doing with their time… I LITERALLY just can't imagine anything worse for them to be doing!
"Well, nothing worse at all, unless they're… shall we say… a certain "class" or "breed" as it were, of kids; and then they are beyond help. But we wanna focus on the ones who can be saved already, and who can play the violin and the Swiss Pipes and recite Vladimir Tolstoy and Immanuel G.F. Nietzsche…
"You know, not the funny-haired,guitar-strumming little jerks living in the gutter, surrounded by filthy pimps and despicable crack addicts and dirty bl… um, I mean, dirty… blue… yeah, dirty blue substances you can inject in your ass or nostrils or pinkie-poos or whatever.
"So, they're resentful that we maliciously fabricated fictive charges to have them arrested them for making shit up? Well, that's the cost of lying and saying shit about people that just ain't true! No reasonable and cultivated person with hundreds of cheapo "glaringly obvious" classical music compilations of the type designed more to impress neighbors than to actually get an authentic grip on the genre would EVER do that!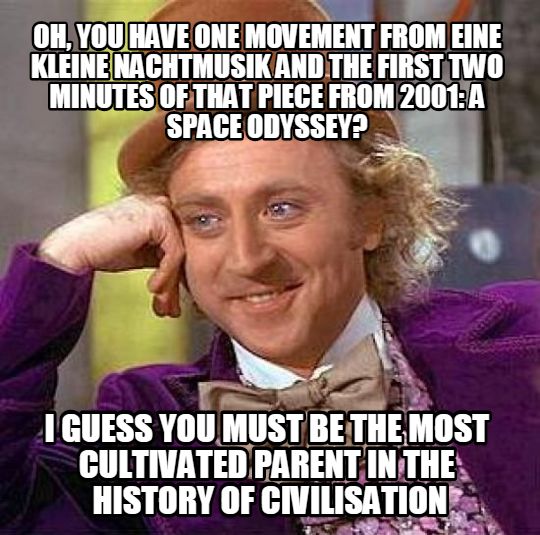 "Anyway, the 1st Amendment does not constitute a right to be heard, so I'm pretty damn down with hanging the crap out of these bastards for inappropriate abuses of their communicative faculties; freedom only exists for those people who exercise it appropriately! Agency means nothing without education, guidance, and civility! You know, to hell with all this freedom of speech crap! I hope the next President shreds all this Constitution bullshit! I don't care which party he/she/it comes from, they could be door-to-door Jehovah's Witnesses, Ebola-ridden Chicano freeloaders… hell, they could even be black, at a push, if that's what it takes to sort this crap out! But just THINK OF OUR KIDS!"
Junior then piped up:
"Mommy, did you just swear?"
"You little jerk! Just shut the FUCK up and stop questioning my authority! For THAT, you uncivil little bastard, when you go home, you have an extra 5 hours of piano practice as punishment! And no more raw-food veggie burgers! Tonight, it's mainstream mass-market vegan tofu for you!"
"YAAAAAAAAAAAAAAAYYYYYYYYY! Fun tiiiiimes! Mummy is nice; pweeeeese may Junior have some extra clarinet and period-trombone time too? What about that Mahler piece? AAAAAAND, Daddy promised to teach Junior differential equations too!"
Junior Senior then oh-so-genially chipped in:
"Why, you just SHUT the HELL up, you little moron! Mathematics is only good for buying you some success! Why… there's just NO PUNISHING little jerks like you! I'm confiscating your acoustic sitar and your ivory marimba set until you learn some god-damn respect, you pathetic little weasel!"
-Roadpath to Truthiness
Still, there is one bit of good news. Dennis Rodman is a regular reader of our website; so we'll soon see what can be done to single-handedly save the objective media from a fate worse than a Pelosi-Bush ticket (well, close enough)….
Then again, unfortunately, our readership also includes the Pro-Big-Government Big-Government Dems, as well as the Anti-Big-Government Big-Government Reps; so we'll have to see.
I mean, negotiating with North Korea is one thing… but Team IntCom World Police Ambassador Rodman might have his work cut out with our conspicuously political haters and oppressors; they who just this once, might want to make some easy political "capital" on their only non-mainstream-media haters (make of that what you will).
Oh and by the way…
PSSST. You didn't hear none of this shit from me. I would never turn on my fellow journalistic truth-tellers…
Well, not for something as petty as the threat of having to make friends with Jumbo behind the four crusty walls of a San Quentin maximum-security prison, anyways!…
Still, maybe all this truth-telling and scrupulous honesty is taking its toll. I need a career move. Inspired by Junior, I think a promising new career as a master sackbutist, cajonist, or Singing Ringing Tree-ist beckons. I guess I will be sorely missed by all you innumerable and conspicuously benevolent political celebrities, air-guitar humanitarians, and Kooky Klan Konfusionists.
Well, I guess those mainstream amateurs at the Onion will have to do their best to plug the gap…