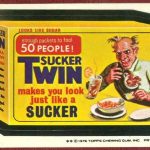 New York, NY – This dubious recognition came on the heels of a story which appeared on the Glossy News website in February 2010, see here, wherein Hollister, California was depicted as a creepy town by executives of a British company known as Hollister Co. who decided to check out the California town to see if there were any similarities between their company and the town that bore their clothing line name. There were none.
Months after the story ran, complaints of local Hollistericals (Hollisterians? Hollisterites?) are still pouring into Glossy in defense of their small California town, obviously unaware that the story was completely fabricated. Even with numerous signs in and about the Glossy site indicating its stories are satirical in nature, the complaints keep on coming.
Due to the anger shown by Hollister's eerily-protective townsfolk against the Hollister Co. executives in particular and the British in general–whom, we cannot stress strongly enough, did not really go into Hollister, the town, and say bad things about it–Money Magazine is reportedly due to come out with their annual ranking of America's Most Angry City, and, you guessed it, Hollister, California is expected to rank somewhere near the top of that list as well.
Author's Note: Apologies to BC Bass, author of the original Hollister story. I just could not resist.