Dreaming of a new kitchen? Looking for a perfect dining table? Do you know how to find the perfect furniture, which will serve for years? For most women (and sometimes men) a perfect kitchen is a beautiful kitchen. And what about quality? Can we sacrifice quality for beauty? Can good furniture combine both quality and style? Yes!
A perfect kitchen should be modern, stylish, comfortable, functional, and qualitative at the same time. We agree that even the biggest department stores can't offer their clients such wide range of products to satisfy these demands. That's why it is always better to surf the net before upgrading your kitchen or living room. There are multiple online stores, which have an impressive variety of chairs, coffee tables, dining sets, and baby furniture. For example, a well-known furniture store lacomfy offers even patio items and authentic stuff for decoration.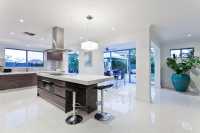 So, what should you pay attention to when looking for the kitchen furniture on the Internet?
How to Choose Furniture for Kitchen
Basic materials. First of all, decide what materials you are looking for. For example, it is better to choose stainless steel carts and racks for modern minimalist designs. Wooden materials will be a good addition to the industrial, Scandinavian, or bohemian style. If you are looking for something contemporary and very modern, choose mixed-material furniture. A fusion of opposing details is very popular now.
A good kitchen is a functional kitchen. If you are a cooking guru and have a huge collection of pots, glasses, and mugs, look for an island with large akoestisch cabinets. Make sure that you will not buy too small or too large furniture, which will be overpacked or half-empty. Don't forget to put built-in appliances in your kitchen list. This minimalistic idea will save a lot of space.
Small accents. If you think that your kitchen is not a place for décor accents, you are wrong. The absence of small authentic details makes your kitchen raw. Always look for accessories like a colorful timer, a vintage vase, an interesting napkin holder, or a beautiful picture. This will only highlight the best features of your kitchen.
Bar stools. A couple of bright bar stools would be nice. This kind of furniture will fit any style and design – Scandinavian, nautical, farmhouse, and urban.
Open shelves. For a modern design choose open shelving and large sizes. Large refrigerators, ovens, islands, and kitchenware look very simple but stylish. Using a large kitchen renovator be percise with your hire.
Kitchen lighting should be on your priority list. It is not only a beautiful accent to your décor but also an essential part of your room. Make sure that you have more than 4-5 sources of light in the kitchen: one central and several illuminates under cabinets. This will make a prepping food process easier and will add an interesting accent to the general view of a space.
Consider what style you are looking for and make the first step to the kitchen of your dreams.