Drunks Get Free Weiners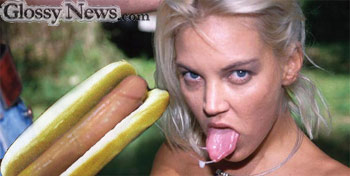 Above: A regular at the Legion wraps her supple lips around the much-debated tube of meat.
By
Jennifer Gardner
The American Legion in Berrien Springs has had strange items on their menu, but never has it created such controversy as when Club Committee Chairman Gary Rader decided to add plump and tasty twelve inchers to the munchie list. Ex Mayor and Manager of the Legion, Marian Kiljoy, expressed grave concerns over the morality of having such hefty meat on the Legion's menu. "Not that I've never had a plump piece of meat in my mouth before," Kiljoy explained, "I just think we as Legionaires ought not condone such behavior."
Rader disagrees. "No one needs 12 inches of hot plump meat down her throat more than Marian Kiljoy," he says. "Maybe if her mouth is full, she won't bitch so much." As he said this, he held his weiner as if to prove it really is a footlong. Infuriating Kiljoy even further, Radar went on to insist the weiners be free to any and all desiring customers, regardless of gender.
Kiljoy, who, if local legends are true, was once known for her weiner eating abilities, also was worried over the legality of giving them away for free. "The State of Michigan constitution clearly states that all weiners must be paid for by those wishing to take them in their mouths. If I was still running this place I promise you ever weiner would have a price tag on it." When asked if the price tag would also be edible, Ms. Kiljoy stormed off in anger.
Gary Rader's wife, Donna, was livid when Kiljoy approached her husband Friday night with the accusation of breaking the law. "She's just jealous of our success," she told Glossy News. "The last weiner she had in her mouth was overcooked and shriveled like a Sharpai puppy." A collective shudder swept those in earshot.
"I am not against the eating of weiners," insisted Kiljoy. "I'm just against the eating of weiners for free. It jeaopardizes not only our license, but also our dignity. Every time I've had meat in my mouth, there's been money exchanged, I promise you. Why should you be any different?"
Despite Kiljoy's objections to them, free weiners, or "Sausage Fest" is going quite well at the Legion.
"I love it," said Stu Rosebush, who's wife loves weiners. "Usually I have to beg and plead to get that many inches in her mouth. And then she usually chokes." Dianne Rosebush, mouth chock full of meat, was unable to comment. But she smiled as she swallowed, as he reports she sometimes does. "Maybe you guys can get cock in here too," he suggested from a mouthful of chicken wings.
The Legion men are getting into the weiner action, of course. Legion members like Herbie Mesh and Cecil Farten have been known to ingest as many as two heavily condimented weiners at once. Men are enjoying their weiners because they aren't used to having footlongs, even when using the metric system.
Since the publication of this article, we have learned that the law against giving away one's own meat has been rescinded in the state of Michigan. So Legionaires in Berrien Springs will be spreading their lips and opening wide in complete compliance with the law. Conversely, being paid to gobble a wiener is only legal at state sanctioned sausage munching contests.
Back to Front - Help us survive! - Contact us - Subscription Info - Submissions - Copyright Info - Webmasters